Free Shipping
Free delivery to UK mainland. The fondue comes in one delivery with everything you need.

Perfect Condition
Our cheese is delivered in climate-controlled packaging. We recommend eating within a month for optimum freshness.

Guarantee
We have a 48 hour freshness guarantee. We'll send you a free fresh one if your box falls outside this
What you get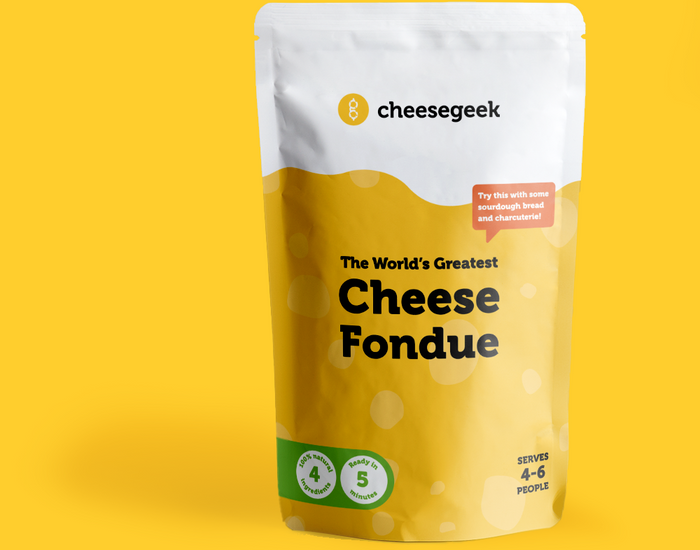 The Fondue Mix
Featuring the finest Swiss produce, this 5 minute mix will make your next fondue night oh so simple.
Our Fondue mix feeds 4-6 people with 600g of the finest Swiss cheese & wine. All you need is your seasonings and dipping items of choice and you have the recipe for a perfect evening in with your loved ones, or the easiest hosting meal you'll ever make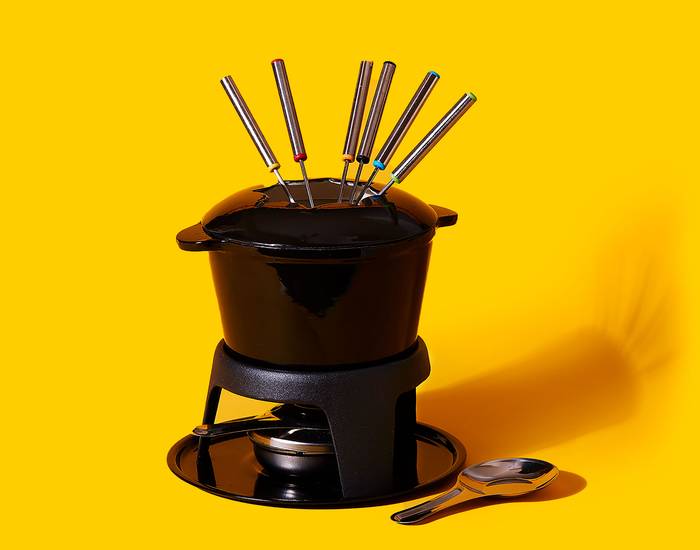 The Fondue Kit
Cast Iron fondue kit for 6
An enamelled cast iron fondue kit with 6 fondue forks, perfect for quick clean ups, great tasting food and even cooking, measuring 21.5cm in diameter.

We recommend cooking your fondue on a medium heat for optimum taste and care.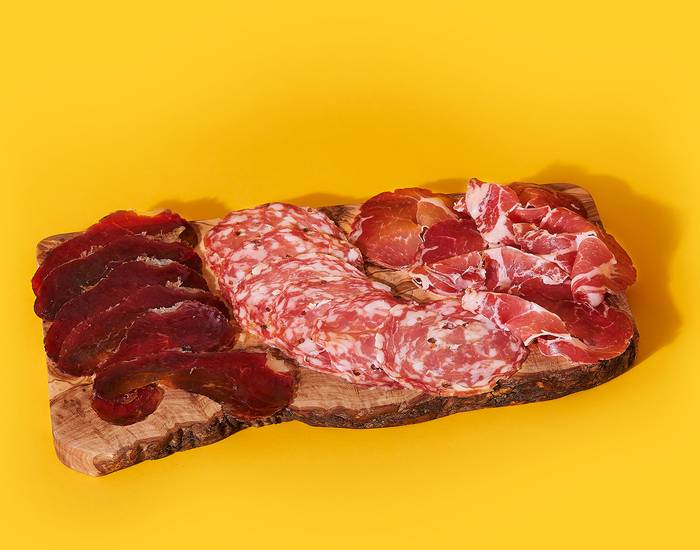 Charcuterie for Dipping
We've sourced the finest meats, perfect for dipping into your fondue.
Round out your fondue evening with two sets of meats (110g) in total, selected to perfectly complement your fondue, sourced from ethically farmed producers, Curing Rebels, who are based down in Brighton.
The fondue kit
1

Six fondue forks. Perfect for our 4-6 person fondue.

2

Cast Iron pot, perfect for evenly heating the fondue and retaining heat. Enamelled for easy cleaning.

3

Burner and stand. Just add gas!

4

Snuffer to adjust or extinguish the flame (got to look after those fingers).
Fondue FAQs
Whilst the fondue mix is vacuum packed for optimum freshness, we recommend eating within a month to enjoy at it's best.
Keep the fondue mix in the fridge, it has fresh ingredients in it.
The fondue mix includes Swiss Lady cheese, Hard Swiss cheese, White wine, Corn Starch and Lemon Juice.
Rub the caquelon or fondue kit with a halved clove of garlic. Add the fondue mixture and bring to the boil over medium heat, stirring constantly. Season to taste with pepper, nutmeg or paprika. Dunk whatever you'd like in (we recommend crusty bread and charcuterie). It takes 5 mins start to finish...