New Year's Eve Fondue Bundle
Was £36.95, now £29.50. It's Fondue Season and what better way to bring in the New Year than with a steaming hot fondue paired with the best artisan charcuterie - even better, it's 20% off. Take the hassle away from making it yourself with our easy fondue kit, serving 4-6 people and featuring two artisan Swiss cheeses mixed with a generous splash of Swiss white wine. Accompanied by a Spiced Coppa, a Loin and an Air Dried Ham from Curing Rebels, it's the perfect recipe for an easy night in. To make your start to 2023 on another level, add our English sparkling on to the bundle and save a further £5.



600g Fondue Mix
two hard Swiss cheeses
white wine
lemon juice
corn starch
Three sets of meats (165g)
The Fondue bundle is available to order until mid-Jan. Delivery is FREE and it comes in a climate control box (the only in the industry) that comes with a 48 hour freshness guarantee. If that wasn't enough, we also add an insert that will talk you through the info on the cheeses, tasting notes and a scorecard to help you make the very most of your festive cheesegeek delivery.
New Delivery Information
We currently deliver to most UK mainland addresses and our deliveries run from Tuesday to Saturday.

To ensure only the freshest cheese is getting to you, we chop and pack your order on the day of dispatch and we always use a next-day delivery service.
Free Shipping
Delivery is not only free, and not only at a set day of your choosing

Perfect Condition
Our cheese is delivered in climate- controlled packaging
Guarantee
If your box is more than a day late, we will send you a fresh one for free.
Free Shipping
Free next delivery to UK mainland on all cheeseboxes. Just order before 2pm and we'll do the rest
Perfect Condition
Our cheese is delivered in climate-controlled packaging. We recommend eating within a week for optimum freshness
Guarantee
We have a 48 hour freshness guarantee. We'll send you a free fresh one if your box falls outside this
The Perfect Pairings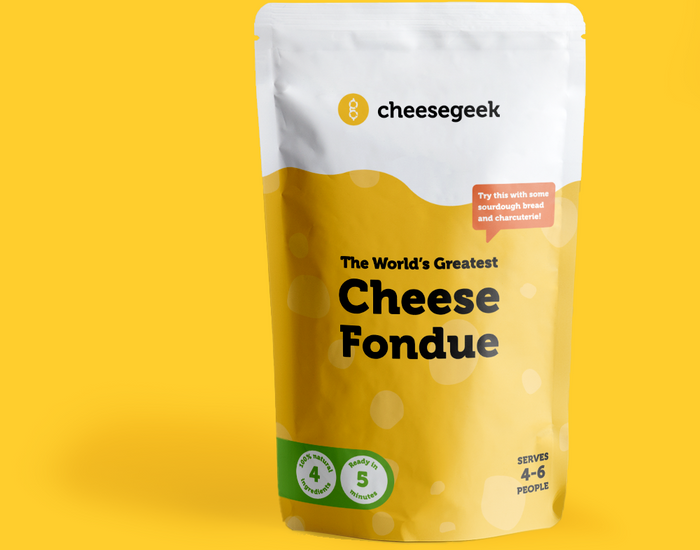 The Fondue Mix
Featuring the finest Swiss produce, this 5 minute mix will make your next fondue night oh so simple.
Our Fondue mix feeds 4-6 people with 600g of the finest Swiss cheese & wine. All you need is your seasonings and dipping items of choice and you have the recipe for a perfect evening in with your loved ones, or the easiest hosting meal you'll ever make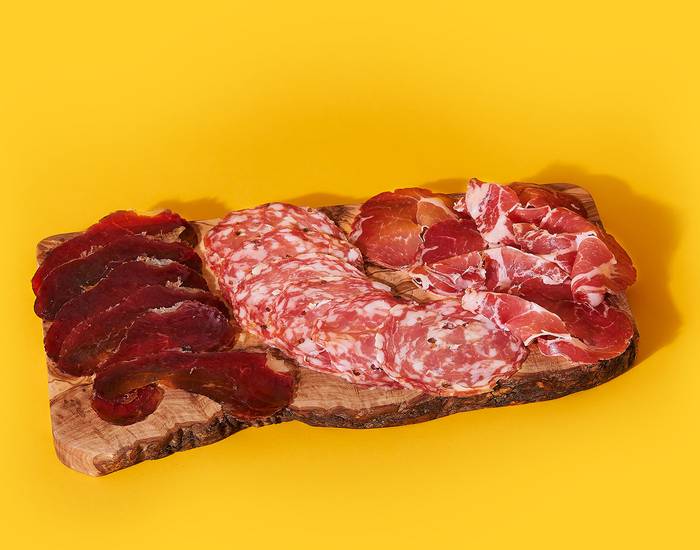 Charcuterie for Dipping
We've sourced the finest meats, perfect for dipping into your fondue.
Round out your fondue evening with three sets of meats (165g) in total, selected to perfectly complement your fondue, sourced from ethically farmed producers, Curing Rebels, who are based down in Brighton.
Optional Wiston Estate Sparkling
An English sparkling to take your fondue to the next level
English fizz is the sparkling new kid on the block, and it's no longer a secret. Based in the rolling hills of the South Downs in West Sussex, Wiston Estate has been in the hands of the Goring family since 1743 and is today presided over by Harry and Pip Goring. Winemaker Dermot Sugrue seemingly has a Midas touch and is widely considered as one of the UK's finest. A nuanced nose with apple, toast and fresh brioche is supported by a crisp, finely tuned mouthfeel with electric freshness and a rounded long finish.
Inside Your Box
1

Your cheese is delivered in the best, climate-controlled packaging money can buy.

2

Your cheese is always cut, wrapped and packed fresh on the day its dispatched.

3

Our cardboard delivery boxes are produced using recycled material and are recyclable.

4

Includes cheese info, tasting notes and pairing tips as well as a scorecard to track your favs.